Sports awards have been given to star athletes for thousands of years. The winners of the original Greek Olympics were awarded olive branches, and now Olympic athletes are awarded medals. Depending on their placement, winners may be awarded a gold, silver, or bronze medal. However, these medals are not made of pure gold, silver, or bronze anymore. Continue reading to see the materials that typically make up Olympic medals and personalized trophies in San Jose and Santa Clara.
As seen in the video, the 1912 Olympic games were the last time a medal or sports award was made of pure gold. Now, The International Olympic Committee requires that gold medals only need to have six grams of gold. The rest is made up of silver and copper. Bronze awards are also made of tin, copper, and zinc. Silver awards are almost completely made of silver.

It can be tough to see your teammates excel and feel like you're not contributing to the group, which is why you should do your best to make everyone feel like part of the team's identity. In addition to plaque awards and personalized trophies in Santa Clara and San Jose, come up with your own point system to help develop a player's game. Watch this video on encouraging your basketball players.
Young athletes get a great deal out of their sports of choice, so you want them to stick with it. Even players who don't put up the highest point totals can still contribute in other ways that they might not realize. Give players a "point" for every block, pick set, or even string of successful passes. These elements are all important to the game; even though the player creating the chances doesn't get credit for the point, he or she will recognize the contribution.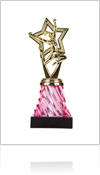 If you are a cheerleading coach or dedicated parent, you may want to consider creating personalized gifts or awards for your squad. By making your own awards with the help of a trophy store near San Jose , you will be able to provide your cheerleaders with recognition for their hard work and dedication throughout the year. From acrylic awards to custom frames and more, you will have many different options to choose from when you are planning out awards for your cheerleaders. Here is a look at some essential ideas for choosing the perfect cheerleading trophies.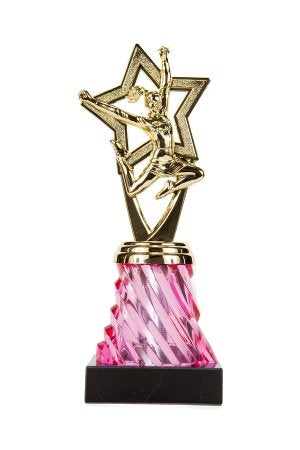 Cheer Figurines
A timeless cheer figurine is a terrific award for every member of your team. When you visit the trophy store, you can preview some of the different actions that are available for your cheerleading figurines. Depending on your budget and preferences, you can select cheer figurines that have been crafted from metal, plastic, or acrylic. If you want to hand out an award to every member of your squad, cheer figurines may be the perfect choice.
Special Plaques
In order to honor members of your squad who went above and beyond during competition, you may want to have special plaques created. A plaque can be engraved with a custom message or award that recognizes a special achievement. When you are designing your custom plaque, you can also choose to include engravings of iconic cheerleading images. Pompoms and megaphones will both look great on your plaque design.
Custom Trophies
When your team wins a major competition or other event, you may be asked to create a custom award to commemorate the occasion. The team at your trophy and framing store can work closely with you to help you create a custom trophy that is sure to be cherished by its recipients. Your custom trophy can include cheerleading figurines that are in formation. A trophy cup is another show stopping idea for your custom award design.

As a business owner or manager, it is important to make sure that your employees know that their hard work and dedication is truly appreciated. In this video, you will receive some great ideas for different types of corporate awards. For example, you may want to offer a compliance award for workers who complete their tasks before the deadline has passed. Various work anniversaries can also be recognized with personalized gifts in San Jose.
A shop that offers custom corporate awards can help you create a variety of custom awards for your employees. If you are gearing up for your annual office party, you may want to visit your local trophy store to have some custom awards created for your team of staff.

Awards ceremonies are exciting, even if the recipients of the awards are not kept secret before the event. Whether you're presenting sports trophies or corporate awards in San Jose, you should know how to do it right. Watch this video clip for a few tips for presenting a sports award or corporate award.
There are a few key ingredients to every award presentation that you should keep in mind when your turn comes. First, be sure to offer some background about the event and the award itself. Discuss why everyone is gathered together and the importance of the award. If the recipients know that they will be receiving a custom award, talk a little bit about the winner and why he or she deserves the honors. Feel free to share a personal tidbit if you have a relationship with the person receiving the award. When you present the award, reiterate the award and the recipient's name.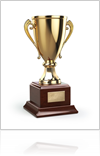 Adding engraving to a trophy or award is one of the best ways to personalize someone's achievements and to create a memento that lasts. If you're looking into your options for trophy engraving in Santa Clara and San Jose, then use this guide to understand several popular engraving types: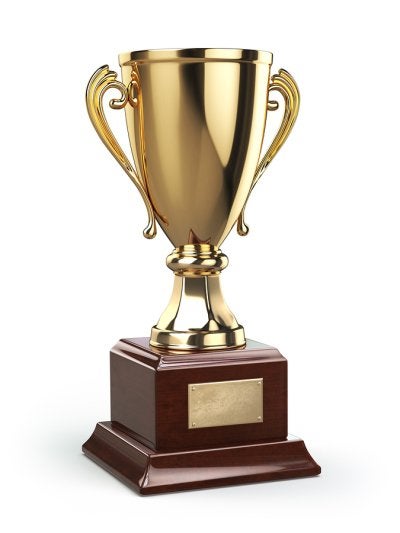 Embedment
If the award that you're having engraved is made from Lucite, a clear plastic that is a widely-used alternative to glass, then you can opt for embedment as part of the engraving. This style is an ideal choice for those who want to memorialize a special document, a badge or emblem, or a company logo. After the embedment, additional engraving can be added to the trophy. It should be noted that this option is not recommended for one-of-a-kind heirlooms or objects.
Photo Etching
When you visit a custom gift store to see examples of their engraving choices, you'll find that some of the awards on display will feature photo etchings. This engraving type offers you an incredible amount of versatility, allowing you to customize the trophy with an image of your choosing. To determine if a photo that you have in mind is suitable for the etching process, show it to a custom engraving provider and discuss your options.
Acid Etching
Utilizing an acidic solution to roughen or mark a variety of surfaces, acid etching is an engraving method that's used for everything from medical and industrial processes to trophy engraving and artistic purposes. While acid etching can be performed on teeth to prepare them for dental procedures, or on cement to ready it for refinishing, it can also be employed to create unique and detailed depictions on items like jewelry and sports award plates.
Sandblasting
Using sand to etch images onto glass, some metals, and some plastics, sandblasting is a form of engraving that is popular for use on everything from champagne flutes and wine bottles to crystal plaques and glass awards.
Archives
2018
2017
2016
2015
2014