Custom Trophies and Awards in San Jose, CA
Custom Trophies and Awards by JB Trophies & Custom Frames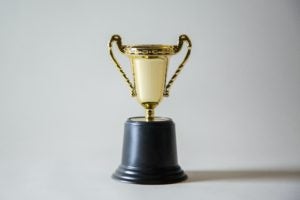 At JB Trophies & Custom Frames, we have spent more than 50 years providing custom trophies and awards to our San Jose, CA residents. Creating a trophy engraving that reflects your intentions and honors the recipient will ensure your award is well-received and treasured for many years to come. We offer professional design and fabrication of personalized trophies, custom plaques, glass awards, sports awards, corporate awards, acrylic awards, crystal awards, metal awards, and other customized trophy gifts at our San Jose trophy store.
When to Order Our Custom Trophies and Awards
Custom trophies and awards that are personalized for a recipient or occasion are a wonderful way to celebrate success and commemorate special events. When you want to recognize milestones in your personal, academic, or business life, choose from one of our many quality custom trophies. Some perfect occasions for custom trophies and awards include:
Educational Achievement
Business Achievement
Arts, Music, and Scholastic Competitions
Weddings, Birthdays, and Family Reunions
Animal Breed Shows
County and City Fairs
Business, Industry, or Academic Conferences and Workshops
Promotion or Retirement Celebrations
The perfect display for your many accomplishments is possible with our quick and easy framing services! Whatever occasion, item, or time-frame, the team at JB Trophies & Custom Frames will deliver the solutions you need!
Design the Perfect Custom Award
Designing the perfect personalized award or commemoration will convey precisely the right message while continuing to bring joy and pride throughout years of display. Our trophy makers are pleased to offer no-obligation design sessions to help you create the perfect award, team trophies, or memento for your event. Though it may not seem like it, there's much to consider when designing your custom trophies or awards. Some things to keep in mind include:
During the trophy design process, you should consider both the atmosphere of the event (such as casual vs. formal) and how the design of your award will reflect both you and the recipient.
Consider the type of feeling you want to convey through your custom awards design and inscription. Do you want to show pride, recognition, gratitude, encouragement, or remembrance?
Bronze awards, column trophies, marble trophies, and cup and bowl trophies are particularly popular for sports and other types of competitions; they are also typically considered less formal awards. Plaques and acrylic awards, glass awards, sculpture trophies, achievement trophies, trophy medals, or crystal awards are often used for formal and corporate events, achievements, and celebrations.
Personalized awards and desk accessories like a world trophy, clock trophy, or eagle trophy often double as awards or tokens of recognition. These items can be tailored to convey many sentiments, including pride, achievement, or gratitude for hard work and dedication.
If cost is a consideration when designing your custom award, consider how the material will affect the price. Glass or acrylic awards are a great way to achieve a formal look similar to crystal, while resin awards can be used to mimic the look of bronze for a more cost-effective price.
In having the opportunity to custom design your trophy or award, you have free range to make it look however you want. Say goodbye to generic, ingenuine, and poorly made awards! When you choose to customize your trophies or awards through JB Trophies & Custom Frames, you know you're getting the perfect design for your unique needs.
Order Our Custom Trophies & Awards Today!
At JB Trophies & Custom Frames, we work hard to provide our San Jose, CA customers with one-of-a-kind, custom trophies and awards no matter what the occasion. We are proud to offer the most extensive inventory of custom trophies and awards Silicon Valley and the surrounding areas have to offer! Want to add your personalized logo to your custom award or trophy? Need help designing the perfect logo? We've got you covered! We'll help you through the design and development process from start to finish to ensure your custom trophy or award is precisely what you imagined. Our custom options include:
Custom Insert Trophies
Custom Riser Insert Trophies
Specialty Trophies
Custom Column Trophies
If you have specific questions about our trophy styles or would like to see the different designs in person, feel free to visit our showroom. Don't have time to stop by our trophy store? Check out our online photo gallery!
Delivering Quality Services for Our San Jose, CA Community
Throughout the past five decades, JB Trophies & Custom Frames has worked to build a solid reputation and create lasting relationships with our Bay Area community. Our greatest accomplishments come from satisfied customers loving our work so much that they refer their friends and family members to our business. Like any good business understands, we're nothing without our customers.
If you are a San Jose, CA resident and need custom frames, awards, or trophies, we are the team you can trust! Reach out today for more information!