We Create Custom Awards in Santa Clara, CA
Design Something Special with JB Trophies & Custom Frames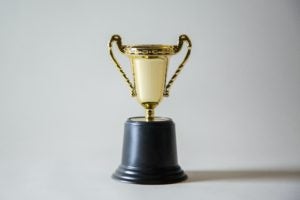 At JB Trophies & Custom Frames, we have spent more than 50 years providing custom trophies, awards, and engravings to our local Santa Clara and San Jose, CA communities. We are here to make your special events even more special with unique awards and trophies. Whether you want to honor top performers at a competition or show your appreciation to a hard-working employee, we can create a custom piece to fit your needs. With our years of experience, you can feel confident that we will help you design the perfect award or trophy. If you would like to learn more about our custom items, please reach out to us today.
Custom Trophies Add a Personal Touch
Not all awards and trophies are created equal. Some options are mass-produced and don't allow for the addition of any unique features. This can make the award feel less special to the recipient. With the help of JB Trophies & Custom Frames, you can create a custom award to add a personal touch that mass-produced items just don't have. Taking the time to add unique features will show the honoree that you wanted the item to be personal to them and them alone. Let us help you create a customized award for your next event.
Occasions that Call for Custom Trophies & Awards
A custom trophy or award is the perfect way to commemorate many different types of special events. They are an excellent way to show appreciation, celebrate success, and honor top-performing individuals. Our custom awards can be used to recognize milestones in many different areas, helping the honoree remember the time they worked hard and achieved a goal. Some of the most common occasions that call for a custom award include:
Educational Achievement
Business Achievement
Arts, Music, and Scholastic Competitions
Weddings, Birthdays, and Family Reunions
Animal Breed Shows
County and City Fairs
Business, Industry, or Academic Conferences and Workshops
Promotion or Retirement Celebrations
Types of Custom Awards We Can Create
At JB Trophies & Custom Frames, we want our customers to have plenty of choices when it comes to the creation of their custom awards. The more options you have, the more you'll be able to personalize the item for the recipient it's intended for. Whether you want a classic look with touches on uniqueness or want something completely customized, we can help you create an item you'll love. Our team will assist you in designing all of the following and then create them:
Custom awards medals
Custom ribbon awards
Design Your Perfect Custom Award
When designing a custom award for an event or recognition dinner, there are many things to take into consideration. You want the pieces you design to convey precisely the right message and also continue to bring joy and pride throughout years of display. At JB Trophies & Custom Frames, we have a team of trophy makers who are more than happy to offer no-obligation design sessions to help you create the perfect award. Some of the things we'll help you think through as you design your piece include:
The Atmosphere of the Event: Will your event be formal or more casual? The feel and atmosphere of the event will play a major role in deciding how your awards should look.
The Feeling You Want to Convey: You should think about the feeling you want to convey when handing out the awards. Do you want to show pride, recognition, gratitude, encouragement, or remembrance?
The Occasion: What is the occasion of the award event? If it's for a sporting competition, you may want to choose a bronze award, column or marble trophy, or a cup and bowl trophy. If it is a corporate event or celebration, a plaque, acrylic, glass, or sculpture trophy may be the best option.
Your Budget: You don't want to forget about your budget. Certain materials, like crystals, can increase the price of your awards quickly. If you have a smaller budget, you may want to consider glass or acrylic instead.