Custom Bronze & Resin Sculpture Awards in Santa Clara & San Jose, CA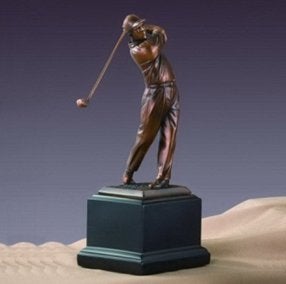 Bronze and resin sculpture awards come in all shapes and sizes, making their customization options virtually limitless. The attention to detail in bronze and resin awards makes them the perfect choice for recognizing others' achievements. Whether it's a corporate fundraiser or a retirement celebration, presenting the intended recipient with a bronze or resin award is a fantastic way to celebrate success or commemorate an important milestone. When you need custom bronze and resin awards in San Jose, CA, JB Trophies & Custom Frames has been delivering exceptional quality products for over 50 years.
How Custom Bronze & Resin Sculpture Awards Are Crafted
Sculpture awards are created using a hand-sculpted master model that's usually made from wax or clay. Reusable molds are then cast from the model and customized according to your preferences. Mold can be used to fabricate one sculpture award or thousands at a time. Depending on your needs, the same mold may even be used multiple times. This is helpful if, say, for example, your organization hosts the same type of awards gala or benefit every year. You would pay a one-time fee to create the hand-sculpture and mold and then place additional orders going forward. At JB Trophies & Custom Frames, we work with some of the best providers of bronze electroplated resin and wood-like carved resin figurines in the Bay Area. If you need an order in less than five business days, please call or visit our store in San Jose for the fastest service. We also invite you to visit our photo gallery to browse examples of our custom bronze and resin awards to get inspired by their design possibilities!
Fine Artistry: Advantages of Custom Bronze Sculpture Awards
Custom bronze sculpture awards offer tremendous design flexibility. They can stand as small as a few inches tall or as enormous as over 30 feet tall. No matter the size, there's no substitute for the exquisite artistry involved in crafting unique pieces that buck the trend of using automated machinery in an assembly line. Because the original master model is hand-sculpted, sculpture awards can capture a more authentic feeling and personality. Minor variations and imperfections during the bronzing process also make them truly one-of-a-kind. We can polish bronze awards until they're shiny or add a patina to give them a brighter color or pattern. Durability is another advantage of custom bronze sculpture awards over their competition. Fewer awards metals are harder or heavier than bronze.
While you may pay a little more for a custom bronze sculpture award than a custom crystal award or plaque, many consider it worth the investment. However, timing is also a crucial consideration because custom bronze sculpture awards will usually require more production time than other types of custom awards. When you call for a free estimate, we'll also give you an accurate production estimate.
Lower Cost & Other Benefits of Custom Resin Sculpture Awards
Resin is used in many types of awards and makes an excellent choice if you want fine details in your sculpture. Resin sculpture awards provide more detail at a much lower cost than traditional bronze sculpture awards. Several materials go into casting resin, including silicone, polyester, epoxy, and urethane. You can apply just about any type of finish to a resin sculpture award, as well as a variety of paints to make them as colorful as you desire. Resin awards are not only more affordable than bronze, but they're also more lightweight. However, they're not the best choice for sculpture awards that may be exposed to the elements because they will show more wear-and-tear than bronze awards over time.
Custom Base & Engraving Options at JB Trophies & Custom Frames
Whether you choose a custom bronze or resin sculpture award, all our custom awards in San Jose can be mounted on custom engraved bases. Our engraving services also include photo etching and acid etching. All engraving work done in our store requires a 5-10 business day turnaround, although we do offer expedited service for rush orders. Charges will vary per job, so it's best to call ahead for your personalized estimate.
Need Rush-Ordered Custom Bronze & Resin Awards in San Jose?
Even if you need a rush order on custom bronze and resin awards in the San Jose, CA area, JB Trophies & Custom Frames can usually deliver. Please contact us as soon as possible to get started with a free estimate. We recommend calling us (rather than emailing) for any orders needing to be completed in a week or less to ensure we're all on the same page. We should be able to let you know upfront whether something is possible with our current lead times and production schedules. We look forward to working with you on all your custom bronze and resin sculpture award needs!
Bronze/Resin Awards Gallery