Crystal Awards in Santa Clara & San Jose, CA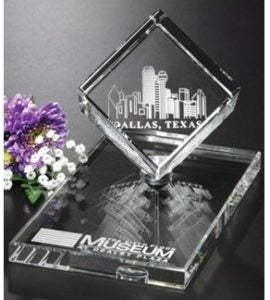 If you're looking for a stunning, classic award that brings light and beauty into any room, crystal awards are the way to go. Crystal is a type of glass that has higher lead content than other glass and diffracts the light in intriguing ways to create sparkle and beautiful light spectrum refraction.
Our team at JB Trophies in San Jose, CA, is highly skilled at working with crystal materials to form beautiful, custom awards and custom trophies. Whether you're looking for a unique sports award for a golfing championship or a stunning corporate award to recognize exceptional work, our team is here to help.
Crafting a crystal award
If you choose crystal, the recipient will get to enjoy beautiful sparkles and spectrums of light glinting off of their award in their office, business, or home. Due to its soft nature, crystal can easily be carved into complex, beautiful shapes. This flexibility provides you with a custom trophy that captures some element of your business or suits your aesthetic desires.
If you're interested in crafting a crystal award, our team will work with you to determine the best shape and size for the trophy. We'll then craft the custom piece and engrave it with you desired text, logo, or other image.
Crystal awards versus glass awards
Crystal awards and glass awards both have a similar appearance at first glance. Both materials are clear and typically etched with text or images. But while they do have many similarities, there are some differences to consider in choosing which one is right for you.
All crystal is glass, but only certain types of glass can be called crystal. Crystal has a higher lead content. This results in diffraction of light that creates an exquisite sparkle and spectrum of light refracting from your crystal award. Extreme angles can be created by cutting and engraving a piece of crystal that has an elegant appeal to the discerning eye. Some of the other differences include:
Weight
Crystal is slightly heavier than glass due to its higher lead content, giving it a weightier feel. This weight can be appealing but can also make crystal a less than optimal choice for large trophies that can become too heavy.
Breakability
Crystal and glass awards are both fragile, likely shattering if dropped. Crystal is slightly more delicate than glass, but neither will likely survive a fall. If you're looking for a clear award than can hold up under rough handling, acrylic awards might be the choice for you.
Workability
Glass and crystal can both be manipulated into beautiful shapes and designs, forming custom awards that suit your desired aesthetic or highlight an aspect of your company. Crystal is slightly softer than glass, which makes it well-suited to carving complex shapes instead of molding them.
Our team at JB Trophies has extensive experience crafting custom crystal, glass, acrylic, and other awards.
Call today for an estimate!
Crystal Awards Gallery
WHY CHOOSE US?
Fast, Personalized Service
Discount Custom Framing
No-Obligation Design Sessions
Contemporary, Modern and Classic Styles
Corporate Accounts Welcome
Engraving on Premises
Serving Silicon Valley for Over 50 Years
Large Inventory on Hand On