Custom Acrylic Awards in Santa Clara & San Jose, CA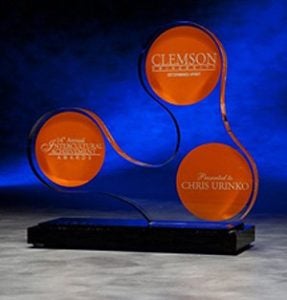 Offering the look of glass awards with more flexibility and affordability, acrylic awards are a great way to craft custom awards for employees, clients, or award ceremonies. Acrylic can be molded into many forms, taking shapes resembling your company's products or logo. They are also more impact-resistant than glass awards, making them less likely to break if dropped.
Our team at JB Trophies in San Jose, CA, works with the top manufacturers of acrylic awards, those who use the highest-quality materials. Acrylic awards are perfect for anyone from teacher of the year to CEO of your company. The award is then laser engraved or screen printed with the award winner's name, company logo, and their achievement.
Crafting a custom acrylic award
With our extensive inventory and custom award manufacturing at JB Trophies, there are thousands of acrylic awards to choose from. If you want quick turnaround and have minimal specifications, you can select a precast acrylic award from our inventory. If you have a longer time period before you need the award, we can work with you to cast a custom acrylic award that emulates the logo of your organization or symbolizes your field of work. Some of the aspects you'll have to consider include:
Shape of the acrylic award
Acrylic awards can be manufactured in a wide variety of shapes, sizes, and colors, taking on the aesthetic of your company or sticking with more traditional, rectangular forms. Some of the most common styles of acrylic awards include clear rectangular shapes, stars, pyramids, circles, teardrops, and more. We'll work with you to select from these common shapes or design an award shape all your own.
Laser engraving or screen printing
Once you've selected the size and shape of your acrylic awards, you can choose whether to have them screen printed or laser engraved. Laser engraving produces a look similar to etched glass, with white text and images against a clear background. Screen printing allows for a range of colors and prints the image and the text onto the surface instead of engraving it.
We'll work with you to incorporate your desired colors, designs, and styles into the perfect award, whether you're ordering one or many.
Occasions for acrylic trophies
Custom acrylic trophies are great for any type of award ceremony or recognition, from honoring dedicated employees to bestowing awards for the best businesses in the area. With their transparent appearance and customizable style, acrylic trophies add a beautiful addition to any office, business, or home area, blending in with the backdrop while sharing your achievements with customers or clients. Some potential occasions for custom acrylic awards include:
Scholarship awards and recognitions
Employee or teacher of the year awards
Business or industry award ceremonies
Whatever the occasion, our team at JB Trophies in San Jose, CA, will work to craft the perfect award.
Visit our showroom today to learn more!
Acrylic Awards Gallery
WHY CHOOSE US?
Fast, Personalized Service
Discount Custom Framing
No-Obligation Design Sessions
Contemporary, Modern and Classic Styles
Corporate Accounts Welcome
Engraving on Premises
Serving Silicon Valley for Over 50 Years
Large Inventory on Hand On