Sports Awards in San Jose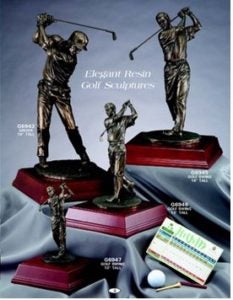 San Jose Sports Trophies
Sports activities naturally promote healthy competition, teamwork, self-motivation, and many other goal-oriented ideals. Thus, sports awards are an integral part of any league or competitive function. Whether you require one or many sports awards or personalized trophies in San Jose, JB Trophies & Custom Frames has the selections and services you need to make your next sporting event a major success.
Sports Awards Design Considerations
Sports awards encompass a wide range of styles, from ribbons and medals to trophies and plaque awards. When designing your sports awards, it's important to consider athlete age, the type of event, and the number of awards you require.
When holding a large sporting event, presenting plaques and trophies on the spot gives athletes a concrete award to take home. In this case, it may be best to include only information such as the date, the name of the event, and the place or achievement on the award.
Custom awards are a great way to recognize long-term achievements and most valuable players. Presenting such awards at the end of the season or at a scheduled ceremony gives you extra time to have trophies, plaques, and figures personalized for added professionalism and flair.
Bowl and cup trophies are both popular and traditional styles for sports awards; these options are great for regional competitions and personalized awards for younger athletes. Options such as acrylic, resin, bronze, or even crystal awards are excellent options to recognize significant achievements, particularly for older athletes competing at a state or national level.
Tips for Planning Your Sports Awards Ceremony
Sports awards ceremonies provide a valuable opportunity to recognize your players' amazing achievements. Keeping a few key tips in mind will ensure your ceremony is a unique and engaging success.
The best award ceremonies are short and simple. While you should take the time to describe each award and recognize the achievements of each recipient, limit each presentation to a few minutes at most, particularly at a large event.
Engaging your audience is a great way to keep everyone interested throughout the ceremony. Prior to the event, ask friends and family to submit photos or written memories and motivational phrases to create a multimedia presentation that recognizes audience contributions.
Change up your award styles by considering designs that are unique to your sport or activity. Bronze awards fashioned like balls, dance shoes, or other equipment can be a welcome departure from traditional trophies and plaque awards.
JB Trophies & Custom Frames offers a variety of sports awards to suit your needs, including trophy engraving, plaque awards, and other personalized gifts. You can reach our trophy store near San Jose by calling (408) 727-9500 today.