Personalized Glass Awards in Santa Clara & San Jose, CA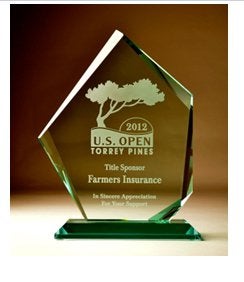 If you're tired of traditional wooden plaques and engravings or are interested in conveying a modern, sleek aesthetic, glass awards are the way to go. Glass plaques, bowls, trophies, and frames offer a beautiful, contemporary way to award employees, teams, companies, or competitors. Their transparent nature allows them to adapt to any office or home setting, absorbing the backdrop of the room into the award.
If you're interested in giving glass awards to employees, award recipients, coworkers, or friends, call our team at JB Trophies in San Jose, CA, today to get started.
Types of custom glass awards
At JB Trophies, we have an extensive array of glass award types. We'll work with you to craft the perfect award for your needs. Whether you want to mark a special day with commemorative etched glasses or recognize an employee's standout achievements with an engraved glass plaque, our team at JB Trophies can help you accomplish the look you're going for. Some of the types of glass awards we carry include:
Glass plaques
Glass plaques provide a beautiful, contemporary look for awarding exceptional work or recognizing milestone achievements. We can adjust the cut and style of the glass plaque to your specifications, offering angular, asymmetrical plaques, traditional rectangular plaques, cut teardrop shapes, and more. We'll then engrave your desired text and images on the surface for a stunning finished look.
Etched glass bowls and glasses
If you want to give an award or recognition that's both beautiful and functional, etched glass bowls or glasses are the way to go. Maybe you're hosting a company anniversary event and want commemorative glasses at each place setting that guests can bring home. Or maybe you want to reward 10 years of employee service with a beautiful, personalized glass bowl. Our team will etch your logo, insignia, text, or other image onto the surface, providing a beautiful, white design on the glass.
Glass trophies
Our glass trophies convey class and elegance, making a beautiful addition to any office desk or shelf. We'll etch the name of the award winner, the award bestowed, the company logo, or any other image on our beautifully crafted glass trophies.
Etched glass frames
If you want to commemorate a particular achievement with the personal touch of a photograph, an etched glass frame offers the perfect option. Its sleek, understated appearance is the perfect backdrop for a photo of the award recipient or the work being honored. We'll customize the size and style of the frame, etching text, logos, or other images onto the surface.
Glass award occasions
Glass awards are a beautiful, timeless way to recognize tournament winners, display your company's achievements, or mark an important occasion. Some of the many occasions we've made glass awards for include:
Commemorative events or anniversaries
Award ceremonies
Sports competitions
Donor appreciation events
Employee recognitions or awards
Whether you want a custom glass picture frame to recognize the employee of the year or stunning glass trophies to award recipients at an upcoming ceremony, call on JB Trophies in San Jose, CA, for all of your custom etching and glass award needs.
Call today to get started!
WHY CHOOSE US?
Fast, Personalized Service
Discount Custom Framing
No-Obligation Design Sessions
Contemporary, Modern and Classic Styles
Corporate Accounts Welcome
Engraving on Premises
Serving Silicon Valley for Over 50 Years
Large Inventory on Hand On