Choosing a Frame for Your Collectable Movie Poster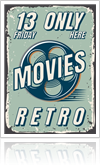 Taking preventative steps to protect your poster will make it last a lot longer. People typically use poster frames in Santa Clara and San Jose to prevent their collectables from losing any value over the years, and the custom frames will also add to their aesthetics when you hang them up. You want your poster to pop off the wall and grab your eye, but you must decide how to fit it among your other posters without compromising your design scheme. If you need help choosing a frame for your collectable movie poster, continue reading.
The first thing you should do when choosing a frame is measure the poster you intend to hang so you can find the right size. Then think about the width of the frame and how it will affect the appearance of the poster when it's put up on the wall. The frame acts as a border, so look at the existing border of the poster and make sure you don't cover up anything important. The frame also adds a new aesthetic element with its color and texture. Think about the color of the supporting wall and try out a few options.