Custom Plaques in Santa Clara & San Jose, CA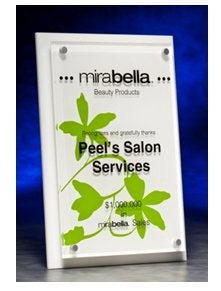 Are you looking for the right way to honor a long-time employee at your company? Do you want an ongoing record of who won your family reunion tournament each year? Or are you searching for the perfect way to honor your sports team's big win?
Custom plaques are one way to bring a piece of beauty to any home or office while recognizing these achievements. Whether it's a sports plaque for a recreational kickball team or an employee of the year award at your business, a plaque allows you to craft a custom, timeless piece that lifts up an individual, a team, or an organization.
At JB Trophies in San Jose, CA, we craft a wide array of custom plaques tailored to your specifications. We'll consult with you about what style of plaque you're interested in and can add engravings each year to perpetual plaques that bestow an annual honor.
Custom plaque types
At JB Trophies, we carry a wide selection of custom plaque styles and personalized awards, helping you craft the beautiful piece that suits your desired aesthetic and purpose. Some of the options you can choose from include:
Our contemporary plaques often feature sleek glass surfaces, clean lines, or engaging colors. We'll tailor the plaque to your specifications, working in a corporate logo or your team's color scheme, creating a piece the recipient will truly cherish.
The traditional style custom plaque typically features an elegant wood base with gold-rimmed black engraving surfaces. These plaques convey elegance and timelessness, fitting in well with wooden office surroundings.
Vertical or horizontal mounting
Our plaques can be designed vertically or horizontally, so you can choose the orientation that will best suit the content and your space.
Perpetual plaques are the ideal way to recognize and record ongoing achievements, whether that's an annual championship winner or employee of the year award. We'll build the plaque with space for many award recipients over the years, adding engravings as frequently as you desire.
 One-time achievement plaques
Our one-time achievement plaques are dedicated entirely to one achievement or recognition, often used at award ceremonies or for recognizing an employee's dedicated service to a company. These plaques can be designed with a contemporary or traditional style. These awards highlight your company's achievements or recognize an individual. They add beauty and elegance to any office or business, showing clients or customers your proven track record.
Occasions to give custom plaques
Plaques are a great way to recognize employee dedication to the company, record tournament winners over many years, or show off your business' achievements to clients and customers. Some of the occasions we make custom plaques for include:
Award ceremonies
Work anniversaries
Competition or tournament wins
Sports championships
An employee of the month or year
Whether you want a traditional corporate plaque to honor your employees or a series of achievement awards for your upcoming award ceremony, our team at JB Trophies in San Jose, CA, is here to help.
Plaque Awards Gallery
WHY CHOOSE US?
Fast, Personalized Service
Discount Custom Framing
No-Obligation Design Sessions
Contemporary, Modern and Classic Styles
Corporate Accounts Welcome
Engraving on Premises
Serving Silicon Valley for Over 50 Years
Large Inventory on Hand On