Custom Metal Awards in Santa Clara & San Jose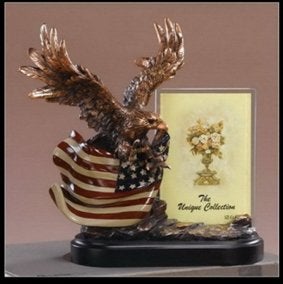 Do you want intricate detail in your custom award? Are you drawn to the rich, warm look of certain metals? Or do you want the sleek, cool look of silver for a company trophy?
If so, let our team at JB Trophies in San Jose, CA, craft custom metal awards and trophies for you. Whether you want one trophy to recognize an individual's exceptional work or a large number of custom trophies for an awards ceremony, our experienced award and trophy design team is here to help.
We work with all types of trophy and award materials, including metals like bronze and resins that emulate the appearance of metal. Our skilled sculptors can craft custom metal awards that embody an element of the award or your company, adding a beautiful, timeless piece to the recipient's shelves.
Design options for metal awards
At JB Trophies in San Jose, CA, we have extensive experience working with a wide range of trophy and award materials, including various metals. If you're interested in crafting a metal award for your awards ceremony, sports tournament, or other occasion, there are a variety of design options you'll need to consider, including:
We work with a range of metal materials and plating options, allowing you to select gold, silver, bronze, or copper finishes for your award. We can incorporate more than one color of plating for a unique, contrasting look or finish it entirely in one type of metal. You can also opt to leave off the plating and have a raw metal finish on your award.
Metal provides an even greater range of award design options than materials like glass or acrylic, allowing for greater detail and intricacy. Our bronze and resin awards allow for detailed sculptures, like a rearing bison, a religious figure, or a beautifully feathered bald eagle. We also provide simpler metal sculptures emulating torches or forming abstract shapes. We'll work with you to hone your desired award form, crafting a beautiful design tailored to your needs.
Maybe you want your entire award crafted out of metal with a flat base. Or maybe you want to mount the metal sculpture atop a more traditional wood or marble-style base. We'll help you select the perfect base for your award, taking into account size and desired aesthetic to ensure a beautiful, durable finished product.
You can choose to customize your metal award with engraving on the metal itself or on the base of the trophy. We provide a wide range of engraving styles and designs, personalizing the award with logos or other images.
Occasions for metal awards
Metal awards are a great choice for any occasion, ranging from more traditional designs to sleek and modern designs. Some common occasions for metal awards include:
Technology company awards
Commemorative medallions
Awards ceremonies
Employee recognition events
Sports trophies
Corporate trophies
If you're interested in a custom metal award or custom trophy, simply get in touch with our design team at JB Trophies in San Jose, CA, to get started.
Visit our showroom today to learn more!
WHY CHOOSE US?
Fast, Personalized Service
Discount Custom Framing
No-Obligation Design Sessions
Contemporary, Modern and Classic Styles
Corporate Accounts Welcome
Engraving on Premises
Serving Silicon Valley for Over 50 Years
Large Inventory on Hand On