Custom Trophy Bowls and Trophy Cups in Santa Clara & San Jose, CA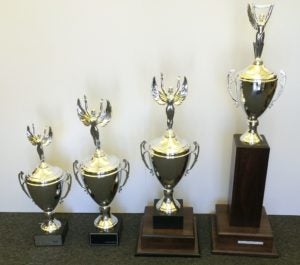 Trophy cups are a type of trophy that stretches back centuries to the 1600s, making it one of the most recognizable, traditional trophies. Trophy cups and trophy bowls both carry a sense of tradition and elegance, typically sitting atop a beautiful platform for elevated appearance.
At JB Trophies in San Jose, CA, we provide our customers with various types of trophies,  including cup and bowl trophies. Whether you need just one trophy or you are making a large order, we can help! Our company has been in business for more than five decades. We do all of our engraving on site, providing you with high-quality, beautiful award cups and bowls.
Types of custom award bowls and cups
With our selection of cup and bowl trophies at JB Trophies in San Jose, CA, you can choose the perfect trophy size and style for your award. Some of the options you'll be able to consider include:
Cup and bowl sizes
Maybe you want to order a large number of small trophy cups to hand out as awards for exceptional employees throughout the year. Or maybe you're interested in a two-foot tall sports award that will pass from champion to champion over the years. We carry a wide range of trophy sizes so you can choose the one that's right for your needs.
Cup and bowl styles
Whether you want a covered cup trophy topped with an angel or an open vessel with sweeping handles, we have the trophy options for you. We'll provide you with information about all of our trophy cup and trophy bowl styles, helping you select the one that best suits your desired aesthetic.
Trophy base types
Once you've selected the type and size of trophy cup you want to form the centerpiece of your trophy, you'll need to choose the right base to hold it. We carry everything from simple flat wooden bases to elegant black pedestals.
Engraving styles
At JB Trophies, we do all of our engraving in-house, providing you with a custom trophy tailored to your needs. You can choose from a range of font styles for engraving, as well as choosing whether you want a one-time award trophy or a perpetual trophy that can be updated with engravings of future winners of the award.
Trophy cup and bowl occasions
Trophy cups and bowls are traditionally associated with sporting events, but their use doesn't have to stop there. Small trophy cups can be a great way to call out exceptional work at your business or bestow awards at a ceremony. Some of the most common trophy cup and bowl occasions include:
Sports events and championships
Award ceremonies
Our team at JB Trophies in San Jose, CA, can help you craft the perfect cup or bowl trophy for your corporate award, sports award, or other recognition. Call us today to learn more!
Cups & Bowls Gallery
WHY CHOOSE US?
Fast, Personalized Service
Discount Custom Framing
No-Obligation Design Sessions
Contemporary, Modern and Classic Styles
Corporate Accounts Welcome
Engraving on Premises
Serving Silicon Valley for Over 50 Years
Large Inventory on Hand On