There are several factors that go into designing a sports award, such as the age of your players and the specific achievements you wish to acknowledge. You may design a brighter and more interactive trophy for younger players, and you can personalize awards meant for players who excelled throughout the season. These are a few ideas that the designers at your trophy store near San Jose and Santa Clara will offer. Continue reading for more in-depth information about designing a sports award.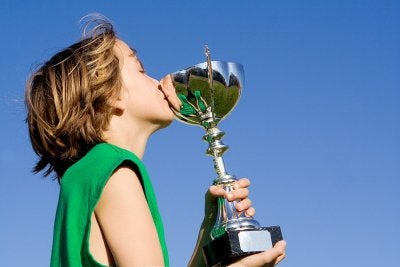 Player Ages
Your players' ages may be a factor when designing a sports award. Younger players will appreciate trophies that are bright, colorful, and visually appealing. Consider designing a sports trophy that moves or lights up with batteries. This type of trophy may include a rotating soccer ball or a lit-up figurine. Older players will likely appreciate cup trophies or awards that depict figurines set in action poses. Also, consider designing smaller awards for younger players. Young players may receive many awards while growing up, and they may run out of display space if the awards are too big.
Visual Appeal
Consider the visual appeal of your intended awards before finalizing the design. Parents and players will want to display this award. If the design is overcomplicated, dull, or offensive, then you may have upset parents and players. Work with your trophy store designers to ensure your awards are attractive and professional-looking.
Participation Level
The level of participation should be a factor when designing sports awards. If you choose to award certain players with customized awards, then these must be designed differently from participation awards. Make a list of all the players you wish to single out, and design the award based on the achievement you wish to acknowledge. For example, an award for "most homeruns" could feature a baseball player swinging a bat, and a "best pitcher" award can have a pitching figurine. Your trophy designers can help you choose different designs for your general participation and specific achievement awards.