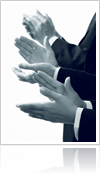 Volunteers don't do their work for the attention, but it's nice to recognize their efforts, contributions, and selflessness nonetheless. A volunteer appreciation event can show unpaid helpers how much they mean to the project and how much everyone appreciates what they've done. Look for a venue to hold the event, and make arrangements for table and chair rentals ahead of time, if necessary. Think about custom awards and personalized gifts in San Jose and Santa Clara for your volunteers for a unique touch, and continue reading for your volunteer appreciation event to-do list.
Find a Venue
In order to hold a nice ceremony for your volunteers, you'll first need to find a venue that's big enough for everyone. Start by getting a headcount and considering how much space you'll need for the event. Choose a location that's easy for everyone to get to. If you meet in the same place every day or every week, you already know that the whole team will fit. On the other hand, a nearby venue can make it feel like more of a special occasion, which might make the experience more meaningful for the volunteers you're appreciating.
Acquire Materials
Some venues have plenty of room for people but aren't equipped with seats, tables, and the like. If you're renting out an empty conference space for the event, plan in advance so you know if you need to bring your own chairs and tables or not. If the venue you had in mind isn't already prepared, you can always rent these kinds of materials. An appreciation event may backfire if you force your volunteers to stand throughout it, so think about what you might need well before the event is set.
Give Out Awards
It's nice to be able to give your volunteers a physical token of appreciation. Corporate awards and personalized gifts remind your volunteers of this appreciation every time they look at them. You can engrave each volunteer's name into a plaque or award, or you can make a line of identical awards for each volunteer to thank them for their contributions.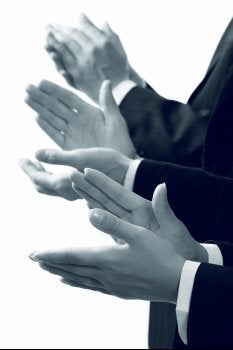 When customers call a company to ask a question, leave a comment, or voice a complaint, they want the person on the other end to be kind, knowledgeable, and respectful. Framing your responses in a way that makes the customer feel comfortable and listened to is key when it comes to customer service. If you notice that an employee has been going above and beyond to do a great job, make sure you acknowledge this behavior so that it continues. This makes your brand look better and your customers feel happier, and personalized gifts in San Jose and Santa Clara show your employees that you notice . Here's more on why all employers should reward exceptional customer service.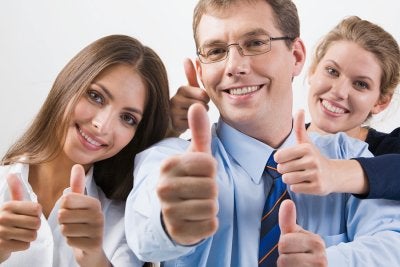 Positive Reinforcement
If you think about the brands, businesses, and corporations that you respect, you'll probably realize that they've all treated you well and given you a satisfying customer service experience. To make sure your customers get the same quality treatment, you need to make customer service a priority. When you notice that one of your employees is going above and beyond to help your customers out, make it a point to reward that individual. This can be with a personalized gift, a glass award, or even a cup trophy. Any kind of token can show that you recognize the employee's commitment to the team.
Better Customer Experience
Customer service is what keeps people loyal to your brand. When your employees realize how seriously you take customer service and are rewarded for their prowess in the area, they will offer customers better experiences. This helps your team practice handling questions, comments, and problems in a controlled manner, and it ensures that your customers have the best experience possible when they work with your company.
Plethora of Options
In addition to being worthwhile, recognizing your employees for their exceptional customer service savvy is easy. You can hold corporate awards on a regular basis and acknowledge each team member for his or her efforts, or you can spontaneously give out acrylic awards for going outside of the job description to take care of your clientele.

Children can receive many sports awards throughout their childhood. It is crucial to keep these children inspired to continue improving, because they can improve in many areas of their lives with the help of sports. Parents can inspire their children by showcasing earned trophies. For example, sports awards in San Jose and Santa Clara can be displayed with other sports memorabilia or items from the children's memorable games. Let's take a closer look at some inspirational ways that sports trophies can be displayed.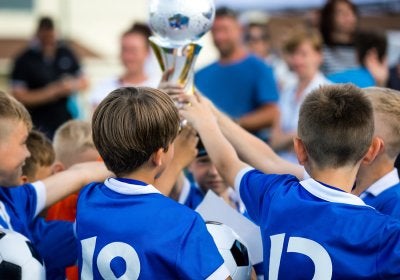 Surround with Sports Memorabilia
A simple and effective way of displaying sports awards is by surrounding them with memorabilia and items from the sport itself. For example, a cup trophy for Little League baseball could hold popular trading cards or baseballs from a winning game. The same can be done for a trophy for playing tennis or football. Surrounding youth sports trophies with other examples from a child's given sport is a great way to continually encourage a child to better him or herself.
Place on Individual Shelving
Another great way to display trophies and give each its due importance is by placing each trophy on an individual shelf. Choose a wall or large section of clear wall space that will be dedicated to the child's endeavors in sports. Purchase small shelves that match the size of each trophy. The shelves can be placed at random, or they can be hung in a pattern or shape such as a football. Add other sports memorabilia—like posters, jerseys, or autographed items—around the setup of shelves.
Create a Shadow Box Collage
A custom shadow box is another interesting and inspirational way to display a child's sports awards. The child can choose smaller awards from his or her sports achievements, such as medals, and display them next to photos and jerseys in a shadow box. This box will keep these items protected from dust and damage over the years. Shadow boxes are also convenient, because they can be easily moved wherever needed.

There are several factors that go into designing a sports award, such as the age of your players and the specific achievements you wish to acknowledge. You may design a brighter and more interactive trophy for younger players, and you can personalize awards meant for players who excelled throughout the season. These are a few ideas that the designers at your trophy store near San Jose and Santa Clara will offer. Continue reading for more in-depth information about designing a sports award.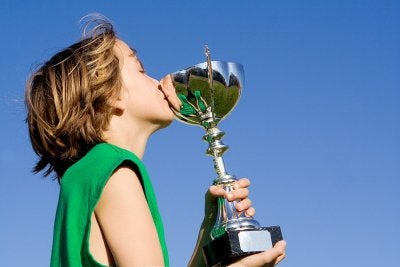 Player Ages
Your players' ages may be a factor when designing a sports award. Younger players will appreciate trophies that are bright, colorful, and visually appealing. Consider designing a sports trophy that moves or lights up with batteries. This type of trophy may include a rotating soccer ball or a lit-up figurine. Older players will likely appreciate cup trophies or awards that depict figurines set in action poses. Also, consider designing smaller awards for younger players. Young players may receive many awards while growing up, and they may run out of display space if the awards are too big.
Visual Appeal
Consider the visual appeal of your intended awards before finalizing the design. Parents and players will want to display this award. If the design is overcomplicated, dull, or offensive, then you may have upset parents and players. Work with your trophy store designers to ensure your awards are attractive and professional-looking.
Participation Level
The level of participation should be a factor when designing sports awards. If you choose to award certain players with customized awards, then these must be designed differently from participation awards. Make a list of all the players you wish to single out, and design the award based on the achievement you wish to acknowledge. For example, an award for "most homeruns" could feature a baseball player swinging a bat, and a "best pitcher" award can have a pitching figurine. Your trophy designers can help you choose different designs for your general participation and specific achievement awards.

Sports awards are a popular way to acknowledge players' achievements, improvements, and contributions to their team. Trophy stores near San Jose and Santa Clara can help coaches make a memorable sports award that players and parents will love looking at. As your team's season comes to a close, you might plan an awards ceremony with customized trophies or plaques that should be ordered well in advance. Here is a quick guide to help you create the awards you need in time: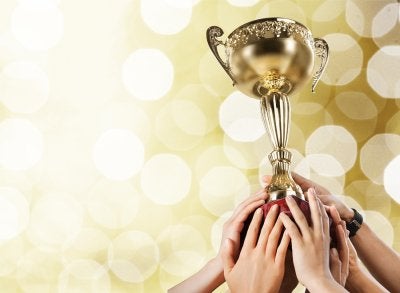 Reserve Weeks in Advance
Different athletic programs will terminate at various points in the year, since some sports are only played during certain seasons. Therefore, it is important to reserve and order the league's or team's awards as soon as possible to ensure the order comes in at the right time. You'll also want to book your venue and send out invitations early, so that everyone is able to come to the ceremony.
Know the Details
There are several details a coach should have when placing the final order for sports awards. A coach should know the exact number of players he is awarding. He should also have their correct names and player positions if he is giving out personalized awards. If the coach wishes to award specific types of awards—such as Most Valuable Player or Most Improved—then he should also have the titles and names prepared before ordering. Coaches might also select players, parents, or volunteers to announce various awards at the ceremony.
Consider Original Designs
Sports awards come in a variety of designs, including cup trophies, plaque awards, and certificates of participation. Coaches can create a fun and original trophy design to award their players. This original design will stand out among other trophies, and the players will be excited to remember their time playing. Work with your local trophy store and research ideas to find the best, original trophy that every player will enjoy. At your ceremony, present each award with a short, customized speech or song to represent each player being recognized.

Corporate retreats are a great way to bring your team together and improve employee productivity. Teambuilding retreats and corporate awards in San Jose and Santa Clara help improve morale and encourage your employees to work harder and smarter for your company. Watch the video and continue reading to learn the basic elements of a corporate retreat.
Decide the primary goal and secondary goals of the retreat. These definitions will help steer teambuilding exercises to benefit your team most.
Assign a team of retreat participants and management to plan an effective itinerary of teambuilding exercises, corporate awards ceremonies, and downtime. These activities are important to create a successful retreat.
Break everyone into teams for exercises. These teams should be filled with employees who do not often work together. They will gain more benefit from working with new business strategies and corporate imaginations.

Motivation is crucial to a successful business. You can keep your employees motivated with several tactics, such as giving them corporate awards or personalized gifts in San Jose and Santa Clara. These acknowledgements of accomplishments are easy ways to motivate your employees to continue delivering great results. Read on for more strategies for employee motivation.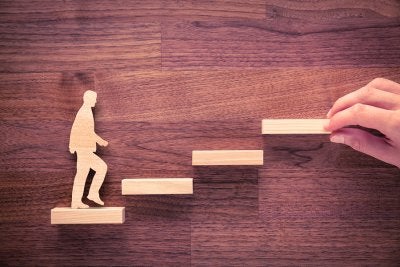 Set Goals
Goals are one of the driving forces in life. If your employees have goals to strive for—getting a promotion, making a deadline, or winning a personalized gift—then they are likelier to stay motivated for work. Give your employees daily and weekly goals that pertain to their job, and you will give them a positive trajectory in their careers.
Provide Incentives
Your goals will not be as effective if your employees do not receive some incentive. Poll your team to find out what types of incentives they would like to receive. Incentives can be as small or as large as you choose. For example, you could give out candy for each sale your employees make. You could provide a special lunch every month, if your team reaches a certain goal. These incentives and more are great ways to motivate your team.
Give Awards
In addition to regular incentives, you can give out special corporate awards every month, every year, or at specific sales landmarks. These awards may be a special plaque award, trophy, or a custom award. There are many ways to acknowledge the accomplishments of your employees. If you are still deciding on what types of corporate awards to give out, then poll employees to determine what they prefer.
Stay Positive
Positivity is essential to motivation. Your employees need to see that you remain positive at work, even during difficult times, and they will be more motivated to do their jobs. If you need to criticize an employee's performance, then make it constructive and give them some positive feedback. If there is a big change in procedures, then stay positive while addressing your employees' concerns. This positivity will help keep your employees motivated.

Whether you're the coach of a sports team or the head of a business, every now and then an awards ceremony might be called for. You'll want to do it right to make sure your players or employees understand how much they're appreciated , so find a location that is practical and convenient. Personalized gifts in San Jose and Santa Clara can mean a great deal to their recipients, making them excellent choices for awards ceremonies. You should also plan in advance so you can say something relevant and kind when you hand out your plaque awards. Here are tips for organizing the perfect awards ceremony.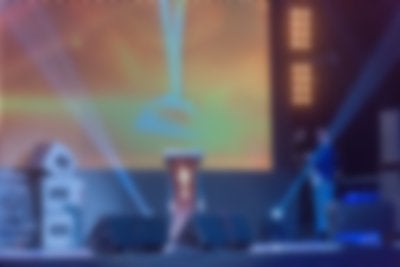 Find a Suitable Location
You can go as big as you want with your awards ceremony, but you'll want to keep everyone comfortable. This means you need to find a venue that can accommodate the entire audience; on the other hand, you might not want to reserve a massive auditorium for a small sports award ceremony. It should also be reasonably easy to access the venue for everyone who will be participating in the ceremony. Remember that you don't necessarily need a new venue at all; a small ceremony on the practice field or in the office can be just as meaningful as a big event.
Offer Personalized Gifts
Personalized gifts like trophies and framed pictures can be great for your awards ceremony. There's nothing wrong with ordering a bunch of awards that look exactly alike, but your staff or team members will appreciate the extra attention to detail when their awards come with their names on them. Adding a simple embedment like this can make the award much more appealing and meaningful to the individual who receives it.
Come Prepared
No matter what kind of awards ceremony you're hosting, you should plan it well in advance. This way you can find the right spot without having to scramble, you can order the personalized gifts with time to spare, and you can make sure the whole event goes according to plan. You can also think about personal characteristics and career achievements that you would like to highlight in each award recipient.
Playing on a sports team is a great way to meet new people, bond with your teammates, and enjoy a healthy lifestyle. When the end of the season comes around and it's time for sports awards , custom frames in San Jose and Santa Clara may be a great idea. Sports awards of any kind will show each player that he or she has earned respect and appreciation for actions on and off the field, and picture frames and personalized trophies can serve as the perfect mementos. Keep reading if you're interested in choosing awards that your soccer team will love.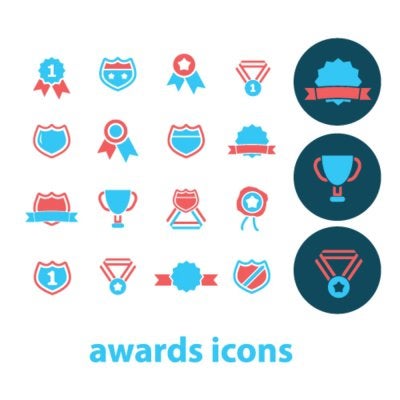 Sports Awards
When the end of the season arrives, it's always nice to show your appreciation for the team's effort with sports awards. You can choose from all different kinds of trophies, plaques, and awards, but the awarding in itself may be what means something to the recipient. A sports award ceremony like this can make everyone feel recognized for giving it their all during every game, practice, and training session. Many players will feed off of this acknowledgement and use it as encouragement to push themselves to be their best. You can award your soccer players for the goals they score, their team play on the field, and their leadership off of the field.
Framed Pictures
Personalized gifts tend to be more meaningful than your standard trophy, and a custom frame is the perfect example. You can give each player on the soccer team a picture frame with a photograph of the team or the individual shining on the field; they can take this with them for years and remember their experiences with the team for the rest of their lives. This type of sports award can turn into an extremely personal keepsake.
Personalized Trophies
If you want to choose the most personal sports awards possible, make individual trophies for each player on the team. Include an embedment with the player's name, the position he or she played, and other relevant information from the past season. Players of all ages will appreciate the effort and attention you exhibited in getting these personalized gifts.
When you are seeking terrific gift ideas for the holiday season, you may want to consider placing a special photo or piece of artwork in a custom frame. Custom frames are specifically designed to highlight their contents, and a shop that offers custom picture frames in San Jose and Santa Clara can help you pick out a frame design that perfectly complements your work of art. Whether you choose archival museum framing or standard framing, you are sure to love seeing your picture in its new frame. Read on for a review of answers to some questions about custom frames.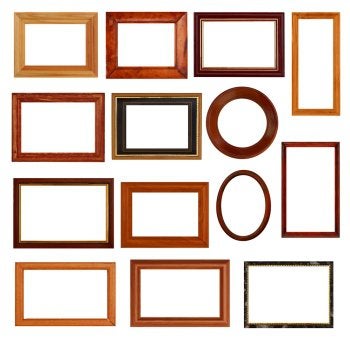 How Does Custom Framing Work?
If you have never had a piece of artwork framed before, you may have questions about the steps of this framing procedure. When you bring your artwork in to be framed, your framing professional will start by consulting with you about which materials and colors are suited to your preferences. Your artwork will also be measured so that a custom mat and frame size can be created.
What Are the Benefits of Custom Framing?
Custom framing has several advantages over purchasing a pre-made frame from the store. When you invest in a custom frame, you will be able to pick out materials that pair perfectly with the artwork that is being framed. If your artwork has unusual dimensions, you will also be able to cut your frame to fit. Overall, custom framing will allow you to achieve the exact results that you desire.
Do I Need to Worry About Preservation?
At the frame store, you may encounter unfamiliar terms such as "acid-free" and "archival quality." In order to make sure that your framed artwork lasts for many years to come, it may be necessary to choose glass and other framing materials that are specifically designed to enhance preservation. A frame store associate can provide you with detailed information about the preservation options that are available for your framing project.
Archives
2018
2017
2016
2015
2014