If you're planning a retirement party for a work colleague or employee in San Jose, you may be struggling to think of some ways to make the occasion really stand out. After all, retirement is a major step, and you want to make sure that the party is fun and memorable for everybody. Fortunately, it's not at all impossible to throw a thoroughly enjoyable party—as long as you know how to plan one. Here are some ideas to get you started:
Buy a personalized plaque.
If you want to honor somebody who has worked hard for many years and provide them with a permanent memento of their time with your organization, one of the best ways to do it is to have a special custom plaque made for them. The plaque can be either serious or humorous in tone, and it can be designed to be mounted either vertically or horizontally in the person's home. Make sure to have the plaque ordered well ahead of time, so you'll be sure to have it by the time of the party.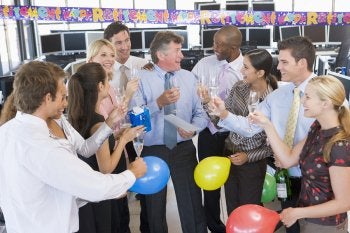 Pass around a blank book.
Before the retirement party, buy a blank book and have everybody at your organization write a special message for the guest of honor inside. The messages can be either long or short, personal or formal, funny or serious—it's all up to each individual. The important thing is that the person who is retiring will have something to remember all of his or her colleagues by.
Prepare a PowerPoint presentation.
While PowerPoint presentations might sound like something you would want to reserve for a work meeting, these presentations are actually a great way to celebrate somebody's achievements. You can prepare slides that show highlights of the guest of honor's career with your organization, including photos and dates, and have the presentation running in the background during the party.